Post by gpkware on Feb 9, 2008 11:42:21 GMT -5
Post all info/questions/ pics about The Hebrew GPK here.
Found this this week on the EBAY and in a pic on the series 3 album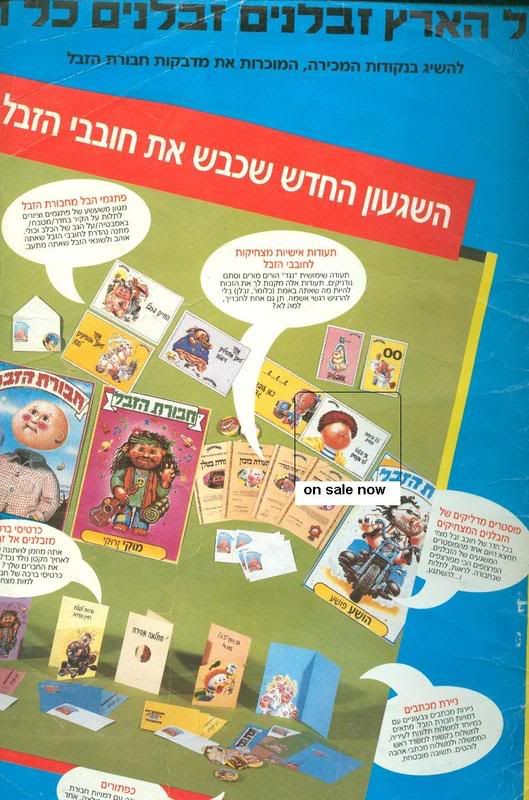 follow this line to see this
for sale now
at 45 US shipped its a bit much. How rare are these "promo" items really?
and also on a side note in this
auction
price: US $1,500.00 Buy It Now >

Make Offer >
No payments for 3 months Apply
--------------------------------------------------------------------------------
End time: Feb-14-08 11:44:06 PST (5 days 3 hours)
Shipping costs: US $15.00
Standard Flat Rate Shipping Service
Service to United States
(more services)
Ships to: N. and S. America, Europe, Asia, Australia
Item location: A rather small village, Israel
History: 1 Offer
--------------------------------------------------------------------------------
You can also:
Bid with Bid Assistant
Get mobile or IM alerts | Email to a friend
Listing and payment details: HideShow
Starting time: Feb-04-08 11:44:06 PST
Duration: 10-day listing
Payment methods: PayPal (preferred)
See details
Meet the seller
Seller: cult_records( 116)
Feedback: 99.2% Positive
Member: since Nov-17-06 in Israel
See detailed feedback
Ask seller a question
Add to Favorite Sellers
View seller's other items
Contact the seller instantly
Buy safely
1. Check the seller's reputation
Score: 116 | 99.2% Positive
See detailed feedback
2. Check how you're protected
Up to $200 in buyer protection. See eligibility(can i get $1500

)
Returns: Seller accepts returns.
7 Days Money Back
Description (revised)
Item Specifics
Trading Card Type : Garbage Pail Kids Availability: Super rare!
Offered here for sale is seriously a rare item. This is the COMPLETE FULL ALBUM of series 2 of the Israeli Garbage Pail Kids (or "Havurat Hazevel" as they were called here). This album was mine as a kid in the glorious 80's and it took me a long time to complete it. I even won an inflatable boat as it was one of the prizes advertized on the back cover. Hehe, good times...
This is an exteremly rare oppurtunity - you will never see a complete album offered for sale and this might be your only chance to own this rarity.
Condition: Well, its an old album so its not in the greatest condition. The front and back cover have wrinkles (you can see in the photos) and not all pages are connected to the original pins. However, all the stickers are in Excellent condition.
Shipping is $15.00 worldwide.
I accept Paypal only.
New eBayers (0-5 feedbacks) are welcome but must pay for a registered mail (an extra $2.00).
Registration and insurance are optional for everyone. If you want any please inform me upon winning the auction. I will not be responsible if a package gets lost or damaged during shipment if you didnt get insurance for it.(so for insured shipping it would be 30?)
Feel free to ask any questions and... happy bidding.
i tried to start talks with this guy/girl but they declined to email back at this point. wonder if that boat in the pic is the same one he was talking about in their auction?
and last if you scroll back up to the first picture i believe a few people here have some of those birthday cards

enjoy and happy collecting. gpkware