Post by Cory on Jun 9, 2008 14:17:20 GMT -5
I have received 4 B2's from Topps. (Yes, I cheated and used two addresses in an attempt to get some extras for our overseas friends.

I bought 7 boxes so I deserved them.

) Anyway, I just want to document the differences for you guys.
Unfortunately there is a difference between the original printing and the new printing. The original printing is much more crisp and the colors are consistent with the other bonus cards in the set. The new printing has much darker colors and it's very easy to see when compared to any of the ANS7 bonus cards. They are also a little less crisp like there is a slight blur to it. Plus, the new cards have much deeper diecuts in them. You can see the diecut border through the back of the card very easily. On the original printing it's almost non-existent. There is a very small portion (about 10%) of the border visible on the back of the original B2 that I have. The new ones show 80%-90% of the border.
Here are some pics:
The top card is the new print. It's tough to see here but the colors are dark and it's slightly blurry compared to the original.
You can easily see the difference between the dark and light purple backs. The light back is the original print. If you look at the area by the B2 number you can see how the diecut shows through. That white line is the diecut. It is tough to get the whole thing to show though.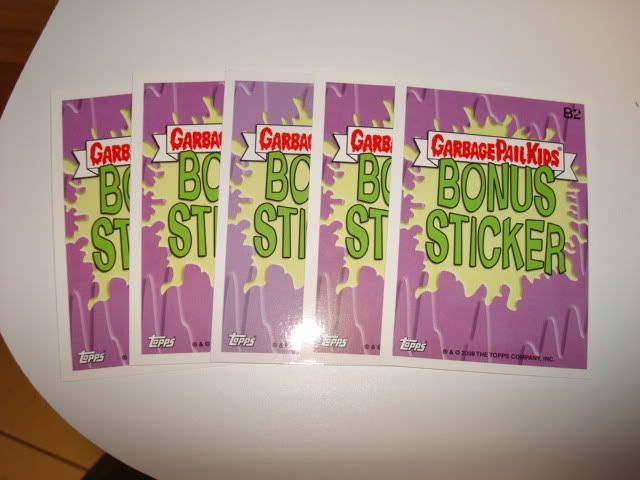 Here is a B2 sandwich. 2 new prints on each side with an original print in the middle.
This is a picture of a B3 mixed in with the B2s. As you can see the B3 has the same color background as the original print. Using another ANS7 bonus card is an easy way to check to see if the back of your B2 is dark or not.
These are the only differences that I see. There is no change in the image at all. The diecut is still gone, there are not print spots, the peel here arrow is still missing and all of the text and colors are the same. They are just a darker shade.
So it looks like we have a minor variation on our hands. Nothing major though. Well, not major to most people.
To the people that get B2's through this mail program. Check the back of yours to one of your other ANS7 bonus cards to see if your backs are also dark.