Post by pepé on Dec 29, 2013 19:02:33 GMT -5
In the late 80's, Panini stickers had a lot of success here in France. I still own some of the stickers albums I purchased when I was a kid : soccer albums, movie albums (ET...), animated series albums (Thundercats...).
But when "Les Crados" series were released, it was a real tsunami. My friends and myself were fascinated by these cards. I can remember the newspapers and the TV news talking about "Les Crados" phenomenon and how some people were saying these cards were a danger for kids. A debate took place in the National Assembly. Even le Commandant Cousteau wrote an open letter to denounce these cards...
Just wanted to share this letter with you to let you know how surrealist it is...
Here comes the original letter (picked from
www.lescrados.com/)
: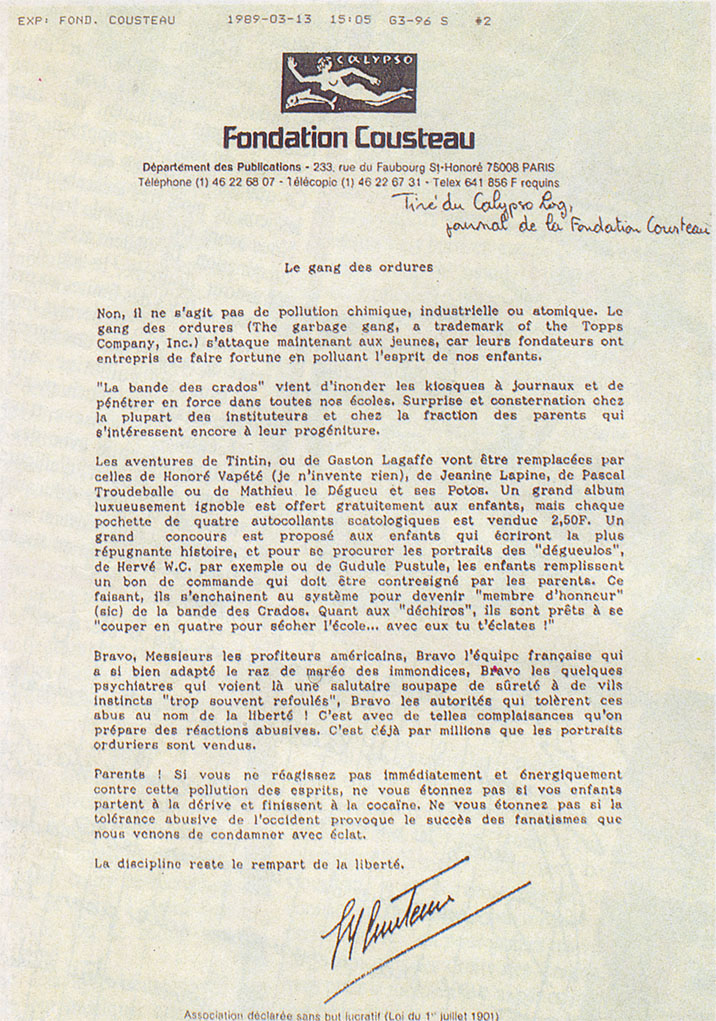 And the translation (sorry for the rough english
) :
The Garbage Gang

No, it's not about chemical, industrial or atomic pollution. The Garbage Gang is now attacking the youth, because their creators decided to make a fortune by polluting the spirit of our children.

"La bande des Crados" just spread in newspapers kiosks and broke into all our schools. Surprise and dismay for most of the primary school teachers and for the fraction of parents who still care about their children.

Tintin or Gaston Lagaffe adventures are going to be replaced by Honoré Vapété (I'm not inventing anything), Jeanine Lapine, Pascal Troudeballe or Mathieu le Dégueu and his friends adventures. A large stickers album is given for free to children, but each pack -containing 4 scatological stickers- is sold for 2,50 francs. A great contest is offered to children who will write the most disgusting story […].

Bravo, misters "American pofiteers", Bravo to he French team who imported so well the garbage tsunami, Bravo to the few psychiatrists who see there a safety valve to some too-often-repressed "vile instincts", Bravo to the authorities who tolerate these abuses for freedom sake ! This is the kind of laxity that generate excessive reactions. These obscene portraits are already sold by millions.

Parents ! If you don't react immediately and energetically against this spirit pollution, don't be surprised if your children let themselves drift and eventually take heroin. Don't be surprised if the excessive tolerance of Occident generate fundamentalisms success we just condamned.

Discipline remains freedom's bulwark.