Post by Neck TY on Sept 8, 2011 22:18:04 GMT -5
There have been lots of No Number Semi-Colin debates, and rightfully so. People pull them all the time from OS9 boxes on eBay every day and it continues to be the almighty holy grail in the GPK OS world due to it's fame, just like Atom Bomb in the FB rehashes.
You all seem to *forget* the MUCH RARER and older card, the OS5 "Green 10" Repaired Rex (174b). Hype goes a long way, and no-number semi-colin is rare, but lets please put it in the back seat to the rarer and more deserving OS card.
Serious OS9 buyers ALL pull a No# Semi. How many serious Buyers pull a "Green 10" 174b? Like... Nobody. Harder to pull than an an FB2 Sketch by far.
I appreciate the appearance of the GPK OS crown for Semi-Colin. It is a rare card, and obviously shows a difference to everyone due to the complete lack of a number. Unfortunately, this thread is about the true RAREST OS card.
These are some posts from the forum. It does not devalue your Semi-Colin, just enlightens you about a MUCH rarer OS card.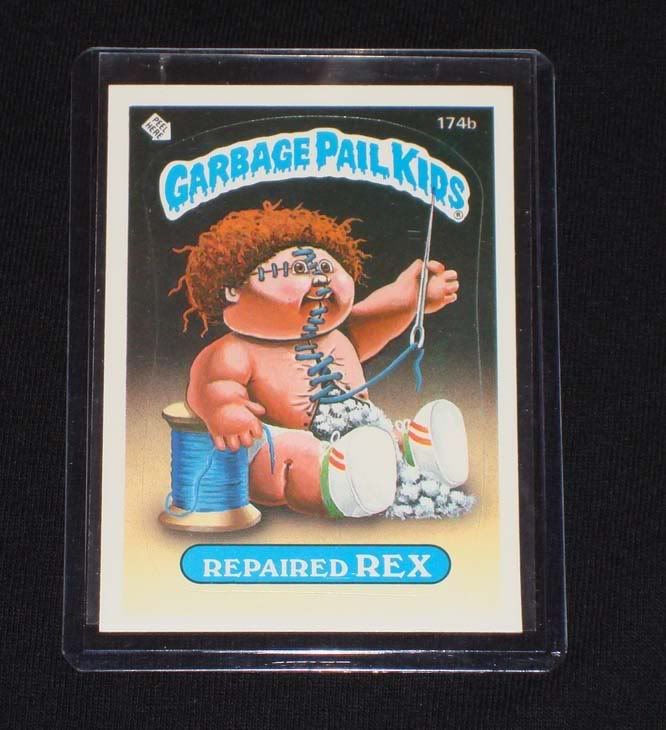 It is indeed a rare card.
I totally agree. I've purchased nearly 70 or so Repaired Rex cards and never received the glorious Green 10. I finally cracked and payed out way too much for one on eBay as well, but I feel it is so much more rare than a Semi-Colin No#.
Repaired Rex Green 10 > Semi Colin No Number to the nth degree, and this is in before the hype!
My Green 10 is so much more precious than all my N#-Semi-C's.
Well I have multiple reasons for why I believe people ignore this card.
1. A lot of people don't even know it exists.
2. People think a mysterious Green number 10 isn't important.
3. People think this card is easily found. Somebody reported you pull about 1 Green 10 per box, which couldn't be more incorrect.
4. People think that the green 10 shows up on cards that are printed in light colors. Absolutely not true. All my Repaired Rex cards are dead mint and pack fresh, and vary from super dark, to extremely light. The Green 10 was an error in the proof/plate manufacturing process same as Semi Colin, and was corrected at the factory. Out of all my Rex cards aside from the Green 10 from eBay, I only had one with a very faint greenish tint below the number, and the card was printed super dark all around. Surely was printed from the Green 10 plate, and possibly they tried correcting the issue at first by significantly darkening up the card which simply didn't work from a marketing standpoint. In conclusion, the Green 10 is a legit error and quite scarce. A beautiful addition to any OS5 collection.