Post by rusVan on Jun 28, 2010 22:58:57 GMT -5
The hardest Series One Cheap Toys to find are Canadian Aquas, that is, besides the Super Rares*. Canadian Aquas are twice as rare as UK Cinnamon Red. The last 2 undiscovered Cheap Toys are Canadian Aqua, and even those two have claimed to be found(no photo documentation yet). This green shade of Cheap Toy was produced just for boxes distributed in Canada. But why? Intriguing question! However, what many collectors are unaware of is the Base Colors of the CA Series 1 release are slightly different than the US and UK Base Colors.
Fan favorite Canadian Aquas rarely come up for sale. I wonder if this makes them more popular? One strange quality about these Aquas is that they are Semi-Rubbery. In fact, because of this reason, they stand alone; however, several collectors and I swear there's a Electric Blue color that exists in semi-rubber! These Aquas do not float like the paler UK Aquas do, which is another id key. Finally, Can Aquas' have a pleasant surface that is semi-gloss, but sometimes appears waxy, giving it a softer complexion than its peers.
*
So far, and very little documentation exists, the KNOWN Base Colors of CA Series 1 are Dull Peach, Light Red, and a Transitional Sky-Dark Blue. Oddly each of these colors are slightly lighter than the US Base Colors, except for Blue. For example, one known CA Peach Alice is a pale and matte Dull Peach. A known, loose, Light Red Petey is lighter than the lightest Light Red US (which is LR M1 btw-more later).
From another source, we have a MIP CA Lindsay that is Light Red, and not Dark Red. Two loose examples of CA Blue in the sculpts of Chris, and Janey are a transitional Sky-Dark Blue. From another source, a MIP CA pack shows a Sky Blue Lindsay. More interesting is that the loose, CA Blue Chris and Janey are M1, and US Sky Blue are strictly M2 sculpts. Many more CA examples are needed before these colors will be 'official', even I wouldn't throw these 'new colors' on the Cheap Toy hobby(though CA Light Red is closest to induction, since this color has been tossed around for 4 years and since it stands out)
*
Recently, the second documented, yet only 'official' Canadian Cheap Toy box-containing Aquas-was discovered by thabearrocks in a Canadian Hobby Convention. Both boxes known where discovered in Canada and were half full or less. The latter was 1 thirds full of MIP, of which 2 were Aqua packs. Both Aqua packs were in baggies much lighter than the other bags in the box. However, even the darker packs have a blue undertone when held to light (US packs have a yellow undertone). Please note that Novo Bonbon baggies have the same blue-undertone as Canadian Series 1 baggies. This is an important clue in an extremely Cold Case(lol)!
Several and I mean-literally 2, other MIP Aquas known are also in light CA bluish baggies. These packs are highly sought after for their rarity and the quality that the toys are easily viewable through the package. This qualities helps collectors deal with that urge to tear open a decades old treasure!
Arguably the true treasure of this recent discovery wasn't the 3rd and 4th known MIP Ca Aquas, or the CA Base Color MIPs, but the cardboard display box they came in. This Cheap Toy box is very special and comes with a French-English Avec Bonbons sticker on the front wall of the box! The sticker was printed in red ink and is well camouflaged as its edges blend in the paint. The sticker has white lettering in the style of Series 2, not Series 1! Another important clue in this Cold Case!
Obviously, more research needs to be done to put these pieces together. It's going to take Canadian collectors who remember buying these and/or an interview with somebody from the Candy Novelty toy design team or someone in charge of distributing. It was a dream find and the kind of discovery that makes Cheap Toys the exciting hobby it is today.
*Several Canadian Aquas are rarer than Sunshine Novo Lindsay.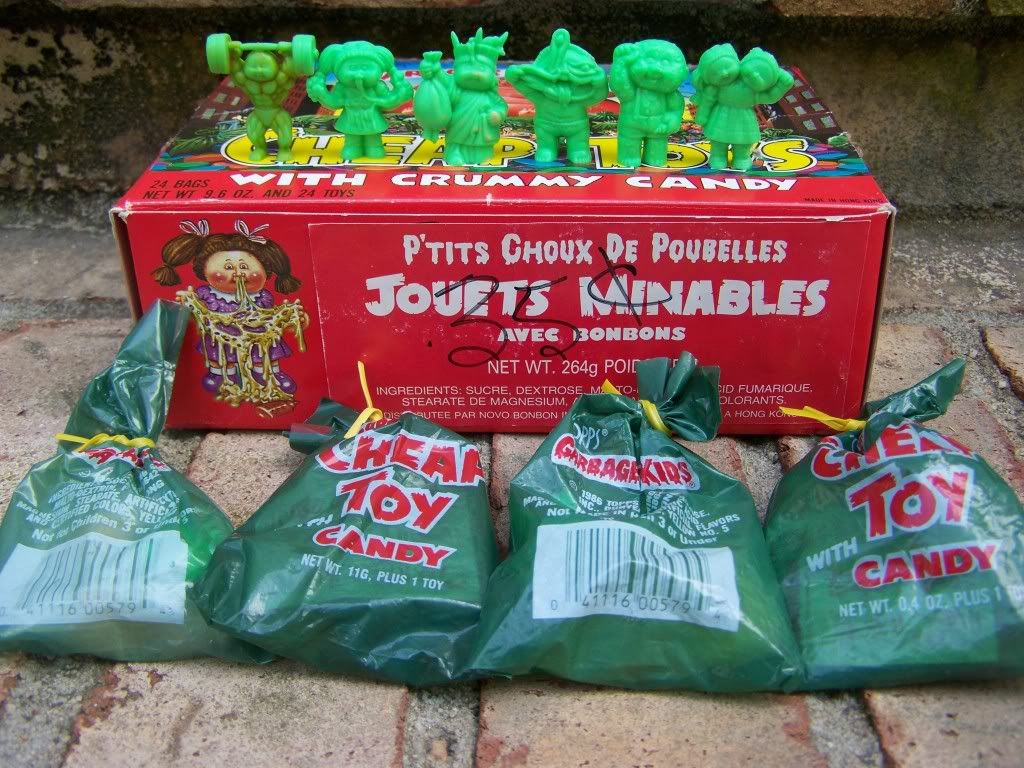 Example of the pack's transparency: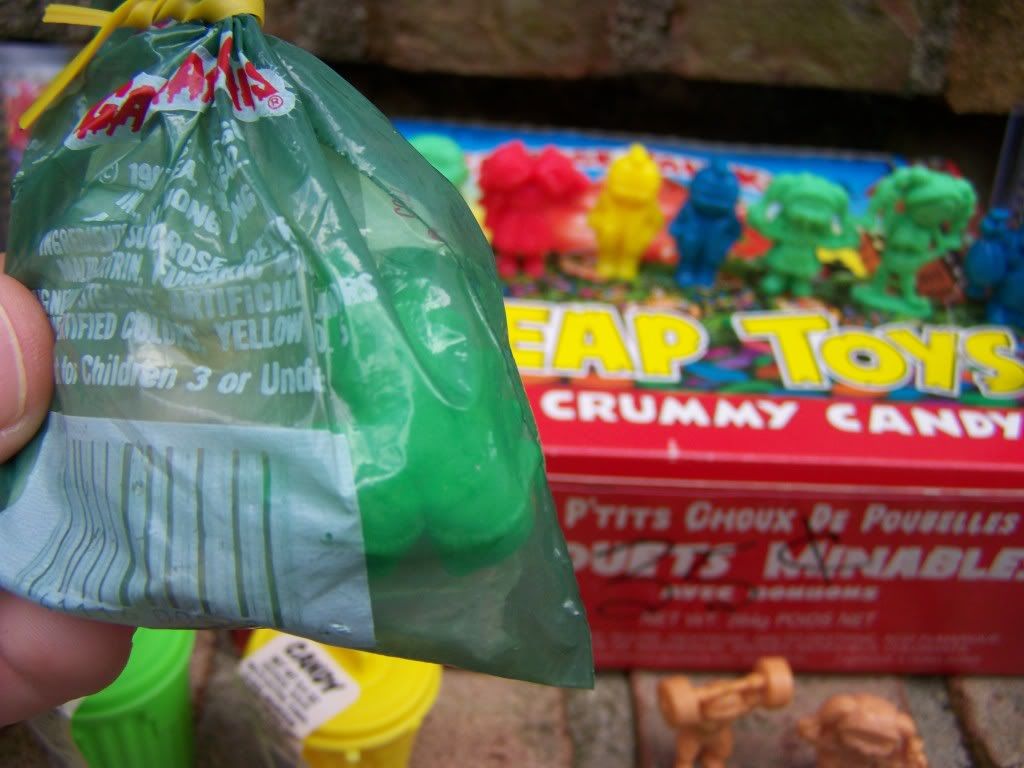 Box, MIP(wrapper), *Checklist and Candy-identical to US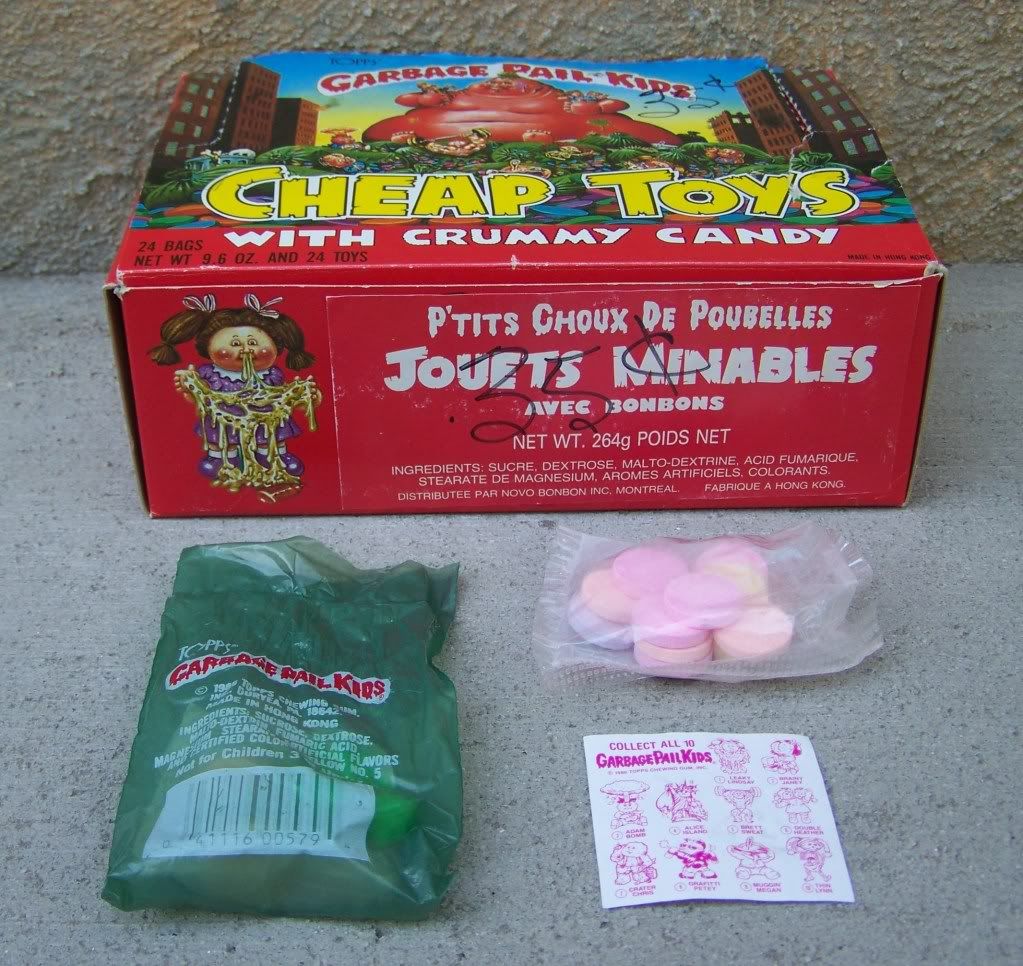 The Sticker!